Mamra Giri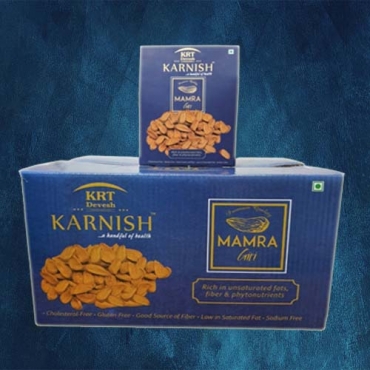 Karnish Dry Fruits is proud to launch and present before you all their new chain of Mamra Giri.
Premium Mamra Giri Almonds is the most premium range of Almonds from the house of K R Trading Corporation. Mamra Giri is famous for its health benefits and unique taste. It is considered to be the richest in nutrients among all varieties of almonds. These almonds are crispy in taste. They are a rich Source of Proteins, Minerals & Vitamins. They help in preventing skin disorders, anaemia & respiratory diseases. They are a good source of fibre which helps keep the digestive system healthy and prevents constipation.
Packed in Quality Packaging
They are also known as King of nuts. K R Trading Corporation is a premium natural nuts and dry fruits brand. K R Trading Corporation brings you the best and the most nutritious daily dose of healthy nuts and dry fruits. At K R Trading Corporation we bring nature's goodness to you in the finest of packing. All the products of K R Trading Corporation are 100% natural and free from any artificial ingredients and artificial coloring.
Why you should include Mamra Giri in Your Diet?
Cholesterol-Free
Gluten-Free
Sodium-Free
Fiber-Rich
Phytonutrients-Rich